In the construction of ground and foundation projects, do you often have some problems? This article mainly introduces its main reinforcement methods and lists 12 common engineering application scenarios. Hope to give you some help.
Main reinforcement methods:
1) Foundation grouting reinforcement
It is suitable for strengthening the foundation cracks caused by uneven settlement, frost heave, or other reasons. The slurry mainly uses cement slurry with a water-cement ratio of 0.5~0.6, and epoxy resin can also be used, etc.
2) Increase base area
The method applies to reinforcement when the foundation bearing capacity and base area size of original building does not meet the design requirements. Concrete casing or reinforced concrete casing can be used to increase the foundation base area.
3) Pressed pile by anchor rod
It is a kind of pile driving technique in which the static pile driver uses its weight and the counterweight on the pile frame as the reaction force to press the prefabricated pile into the soil.
4) Root pile method
Using small rig drill to design depth according to design diameter, and put into rebar cage. After put in the grouting pipe, inject the cement slurry and make it combined with the gravel aggregate to congealed into piles. The root piles can be vertical or sloping as needed, and the number can be single or bunched.
12 application scenarios:
1) Foundation stabilization: Improving its bearing capacity by strengthening the building foundation.
2) Existing building reinforcement: Reinforce the foundation of existing buildings to protect their safety.
3) Wind Turbine Anchor Bolts: Supporting the wind power tower foundation to improve its stability.
4) Mast foundations: Using for foundation support of the transmission tower foundation to improve its bearing capacity.
5) Building foundation underpinning: Improving the foundation stability by original location reinforcement of building foundation.
6) Uplift control: The anti-float and anti-uplift foundation performance can be improved by installing pile foundation on the foundation.
7) Abutments: Installing anchor bolts can strengthen the abutment and improve its stability.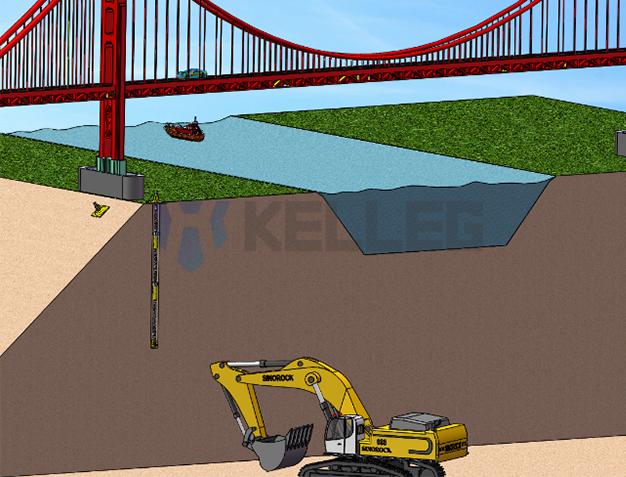 8) Tie back anchorage: Installing rock bolt on the retaining wall of the foundation pit to strengthen the bearing capacity of the foundation pit sidewall.
9) Retaining wall foundations: Strengthen the retaining wall foundation to improve its bearing capacity.
10) Noise barrier foundations: Supporting the noise barrier foundations to ensure its safety.
11) Road widening: Road widening to improve the bearing capacity of roadbed.
12) Tie rods: Installing tie rods to support and prevent the collapse of the foundation lateral wall.